My music
All the music I create in my studio is dedicated to the Indian goddess of music, Saraswati (the idol you see on the right resides atop my left monitor and oversees all my work). That fact, and the wealth of musical knowledge and tools that I possess, ensures that my output is top-notch. Listen for yourself below.
I can compose in a large variety of styles, and I'm adept at recreating and mimicking preexisting works. Send me a sample and I'll send you back something that could well have been recorded by the same band!
NEW: Looking for a specific genre of music, or music to fit with a certain mood or type of project you're working on? Use my new music search function!
For everyone else, there's my new media player on the left. Click on the link underneath to open it up as a popup so that it doesn't reset every time you navigate to a different page on this site.
You can also visit my Muxtape page for a prettier user interface.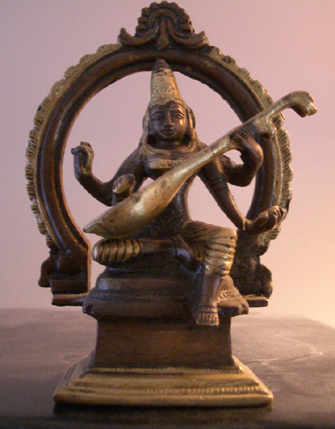 For more samples, or for specific stylistic requests, please contact me.